Thank You for Your Support of loveyourbaby.com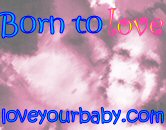 Each day loveyourbaby.com reaches out to hundreds of breastfeeding mothers from all over the world! Erika, of loveyourbaby.com, strives to provide the latest information available on the Love Your Baby website as well as on line support via e mail.
Please help keep this website up to date with the latest research, articles, and breastfeeding related information.
Thank you! We appreciate your contribution no matter how big or small.