Pregnancy is a great time to stock up on your new breastfeeding bras.
Your breasts already begin to change in the first trimester of pregnancy. Most pregnant moms outgrow their pre-pregnancy bras in early pregnancy.
How to Choose Breastfeeding Bras
Most breastfeeding mothers feel more comfortable wearing a bra designed for nursing mothers. Here's what to look for when you shop for breastfeeding bras.
Supportive, comfortable and convenient
Start with one nursing bra. Test it out and see if you like it. When you find the style that suits you best… buy at least 2 more! You should have one to wear, one spare clean bra, and one in the laundry. The more you own the less you'll have to wash.
A good nursing bra will support the breast from below even when the cup is open. This makes feeding more comfortable and easier to close the cups when you're finished.
Pass up bras that come fully open at the front when unfastened. It can be an effort to get your breasts back into place when you're done feeding.
Your bras should fit comfortably. Bras that are too tight may block the flow of milk and put you at risk for plugged ducts.
Cups should be made of a breathable fabric which is usually 100 percent cotton. There are new synthetic breathable microfiber fabrics that also allow the skin to breathe by drawing moisture away from the body.
Straps should be adjustable and not dig into your skin.
Size
Large breasted women need a bra with extra support.

During late pregnancy, your breasts have grown to their full size. Your breast size settles down to this size, usually in the second week after childbirth.

Select a bra with several rows of hooks at the back to allow for changes in breast size and in rib cage expansion during pregnancy. If you buy a bra that fits well when fastened on the second row of hooks, you'll have room to get a bit larger or smaller.

If you buy your bras online, make sure the company has a good returns policy in case you need a different size.
Flaps
Breastfeeding bra flaps are designed for discreet nursing in public. Many nursing bras are made so that the material that covers the breast can be detached without having to undo the bra. Flaps should be easily opened and refastened with one hand. Your other arm will be holding a hungry baby so choose a bra with fasteners that you can open without looking at them. Some nursing bras are made with flaps connecting at the top of the cup while others connect at the middle of the two cups. Choose the type that is easiest for you to fasten and unfasten with one hand.
Without Flaps
There are breastfeeding bras with cups that can easily be pulled to one side with one hand which are usually made of softer fabrics. While this type is often cheaper and very comfortable make sure that it also offers you enough support.
Under-wire
Under-wires provide extra support and most women either love them or hate them. If you choose an under-wire nursing bra make sure that it fits well and does not add any pressure to your breasts as this could lead to plugged milk ducts.
Without Under-wire
Breastfeeding bras without under-wires may be more comfortable for you especially if you are used to wearing non-under-wire bras.
Nursing Tank Top Bra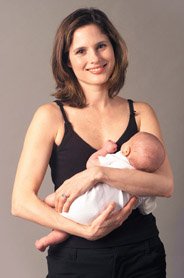 Nursing tank top bras
combine the best of a nursing bra with the comfort and coverage of a tank top which allows discretion while nursing in public.
Breastfeeding Bras – the perfect fit
Your bra should cover the entire breast. There should not be any breast tissue spilling outside of the bra cup.
Your bra should be close-fitting around the bottom band. It should be comfortable while not putting any pressure on the breasts. A bra that fits too tightly may cause plugged ducts or infection.
Your bra should not ride up in the back.
The straps should support your breasts by holding them up without cutting into your shoulder.