♥ Stay At Home Mom ♥
Work from Home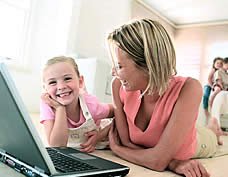 The biggest mistake people make in life is not making a living at doing what they most enjoy. - Malcolm S. Forbes (1919-1990)
The most important career choice I made was to become a FULL-time mom.
Stay At Home Moms need Money
So much of what we want and do requires money. Moms need money... kids need money... we all need more than we have. It's sad to think that so many mothers would choose to quit their jobs to be a "stay at home mom" but they simply cannot afford to.
How can I stay home with my children AND make money???
Visit now for your free trial downloads!
If you are already on-line and using the internet... why not use it to promote a passion that you have? Turn your hobby into a resource of on-line knowledge or turn an existing business into an on-line empire - The proven success of SBI will help make sure that your website work$ for you!
The Information Business - Infopreneurs
With SBI, you can publish what you know and love... and make money doing it from your living room or home office. The way you make money with this formula includes a blend of affiliate programs and referral deals and finder's fees, Google Ads AdSense program. It sounds too good to be true however this is a legitimate way to earn an income that can exceed thousands of dollars per month.
The complete infopreneur never has to sell a product or service. You can also build upon the information business with a mix of other business types of your choice, depending on your knowledge, abilities, and time availability.
Stay at Home and Make Money

You can stay home and care for your family while running your own home business. This is not a get-rich-quick scheme or "biz opp"... SBI provides the awesome tools that will get your business noticed in the search engines... and you have to do the rest of the work. Over time you can have a thriving, money-making at home business!This is real.
One of the best gifts I ever received was my SBI website! I have been working with babies and mothers for years - and loving it. When I was given SBI for my birthday, I thought, "Build my own website?!". I didn't know anything about site-building or how to market my business online! That's where the SBI Action Guide came into play. In my limited spare time I followed and read the step-by-step guide on how to create a website. I learned that I could get content out there that would help others... and also earn money! I became a WAHM - (Work At Home Mom) with my own money-making online business!!!
I already owned valuable knowledge as a physical therapist and breastfeeding consultant... all I had to do next was start writing and using the tools I'd learned from SBI to get myself out into cyberspace!
There are many ways that your website can make money for you. Join affiliate marketing networks. Cash in with LinkShare's Affiliate Marketing Programs!
Click here to learn more about becoming a stay at home mom with SBI!
If you're visiting this page because you are devoted to staying at home with your kids or you're thinking about becoming a stay at home mom... and you need to make money too... Check out these real life SBI case studies. Learn from the experience of moms and regular people just like you. The case studies here are detailed recountings of individual SBI! experiences, each in their own words, in their own styles.
Real people from the SBI team will answer your questions about using Solo Build It.
Try SBI... it works! Get answers to your questions now!
Buy SBI
SAHMS :: WAHMS Resource Center
Stay at Home Moms :: Work at Home Moms' Resource Center .: http://www.momswish.com :.