How to Make Simple & Healthy Baby Food
1 - The best way to maintain the nutrients of fruits and vegetables when cooking is to steam them. It's possible to steam food in a microwave, in the oven or on the stove. how make homemade baby food

2 - Set aside the liquid that the food was cooked in to add in later to adjust the consistency of your home made baby food.

3 – Put the steamed fruits or vegetables into the food processor or blender.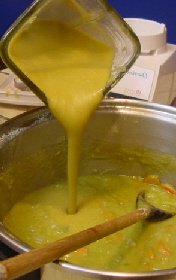 4 - Add liquids from the cooked fruits or vegetables as you blend them. You may choose to add breast milk to add a familiar flavor to the baby food. how make homemade baby food
5 - Cover and refrigerate or freeze the cooked baby food immediately after it is prepared. Keep it in a covered container in the refrigerator. After three days of refrigeration, it is no longer fresh so please do not give it to your baby after three days.
Freezing in Cubes
Freezing the puree in ice-cube trays and then transferring into freezer bags or plastic freezer containers is a great way to store your home made baby food. This way you can offer your baby a wide variety without necessarily preparing them everyday!

how make homemade baby food

How make homemade baby food ideas

how make homemade baby food